Mule Deer hunting ...
Our mule deer hunts are one more of the many reasons Bugle Canyon is unique and a step ahead of the competition. We are proud to say we are one of the very few fenced estates in the world that offer mule deer hunts. Our mule deer range from 160-200+ inches for the hunter who has dreamed of shooting a huge mule deer their entire life.
This is truly a hunt of a life time. We are sorry to say right now our mule deer hunts are very limited but we are working hard to ensure more and even bigger Mule deer in the future.
Call today to book or get information on this once-in-a-lifetime hunt.
Enjoy the thrill of the chase. You can hunt black powder, rifle or bow.
Please call 308-772-3840 for prices. A 50% deposit is required to confirm your hunting dates. The balance is due upon arrival, in the form of cash, cashiers check or certified check. Come hunt with us today.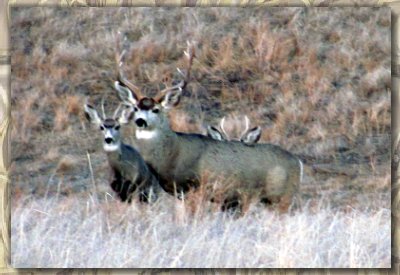 At Bugle Canyon Ranch, we work hard to ensure that the memories of your stay will be something to treasure - forever.
Retired Col Cox of Texas took two trophy bulls ... read more >>
Tim of Nebraska ... read more >>
Book Your Hunt
Contact Us
PO Box 491
Oshkosh, NE 69154
308-772-3840