Bugle Canyon Ranch
Bugle Canyon Ranch is a 1500 acre 'private hunting' ranch, covered with trees and rough canyon. Family owned and operated, the ranch has been providing Big Game 'Hunts of a Lifetime' since 1998. Elevation: apprx 3600 feet.
One thing that sets us apart from the competition is that we only book one hunter or one hunting party at a time, so you will get the entire ranch and the beautiful log cabin all to yourself. You get 1-1 guide service and our entire attention is on your hunt!
We pride ourselves on working with the hunter by doing whatever style of hunting he or she prefers to ensure a great successful hunt, memories, and friendships of a life time!
Come see why hunters return back to Bugle Canyon Ranch year after year.
It's an exciting hunt no matter what style of hunt you prefer - bow, black powder or rifle.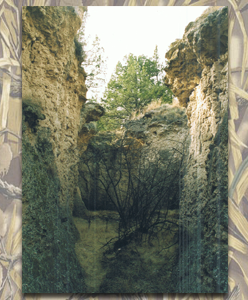 Hear the bugle of an elk, or the howl of a coyote at the Ranch. The animals have the advantage because they are always just a short distance away from being out of site. This also means that it is the perfect land to spot and stalk in.
Come test your hunting skills and at the same time, enjoy the peaceful and tranquil setting. Relax in our spacious new log cabin, with all the comforts and conveniences of home.
At Bugle Canyon Ranch, we work hard to ensure that the memories of your stay will be something to treasure - forever.
Retired Col Cox of Texas took two trophy bulls ... read more >>
Tim of Nebraska ... read more >>
Book Your Hunt
Contact Us
PO Box 491
Oshkosh, NE 69154
308-772-3840