Elk hunting ...
If you are looking for the big boys look no farther. We offer bull elk ranging in size from 300"- 600+" world record Rocky Mountain bull elk. Our Elk hunts prices start at $3900 and usually take place in the prime rut October 1 - November 31. For Elk we mainly do spot and stalk but also offer blind and tree stand hunts.
We also offer cow elk hunts in Feburary and March for $2000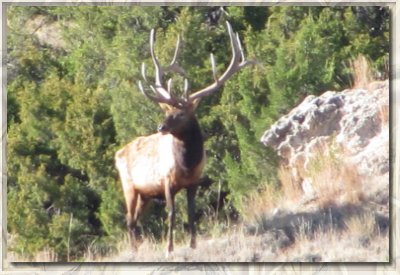 We only book one person or one hunting party at a time so booking dates are limited. Hurry and book today to ensure the date that fits you on your hunt of a life time.
This land is full of rough canyons and trees. Many of our hunters have told us that it is more fun to hunt than the mountains because of the number of animals that are seen. The stalk and chase are a great part of the hunt - these elk know where to hide - some aren't seen for the entire season.
Please call 308-772-3840 for prices. A 50% deposit is required to confirm your hunting dates. The balance is due upon arrival, in the form of cash, cashiers check or certified check. Come hunt with us today.
At Bugle Canyon Ranch, we work hard to ensure that the memories of your stay will be something to treasure - forever.
Retired Col Cox of Texas took two trophy bulls ... read more >>
Tim of Nebraska ... read more >>
Book Your Hunt
Contact Us
PO Box 491
Oshkosh, NE 69154
308-772-3840